Premium interior Painting Services aimed at adding color to your life!
We are The Professional Interior Painters in Concord, NH
A fresh coat of paint is one of the easiest ways of transforming the interior of your space. However, there can be a stark difference between doing it on your own and having it done through professional interior painters. Fish Painting offers high-end interior painting services to ensure unmatched service and superior results.
---

The Ultimate Resort To Paint Your House Interior Perfectly
We understand that a home is your most prized possession. The team of experts at Fish Painting use the latest tools and techniques to deliver the best quality services to you. From simply freshening up the living room to repainting your entire house, our interior painting services will provide the best results that you will cherish for ages.
Attempting to paint your house alone might seem like a fun DIY idea, but it can damage your property. Not only can it be time-consuming and stressful, but it is also difficult to achieve the results that professional interior painting services offer. So we are here to your rescue. Our team of specialists allows you to sit back and relax while you get expert advice, professional service, and attentive customer support. We understand that no two homes and no two painting projects are the same and so offer customized services to fit your needs and expectations.
CONTACT US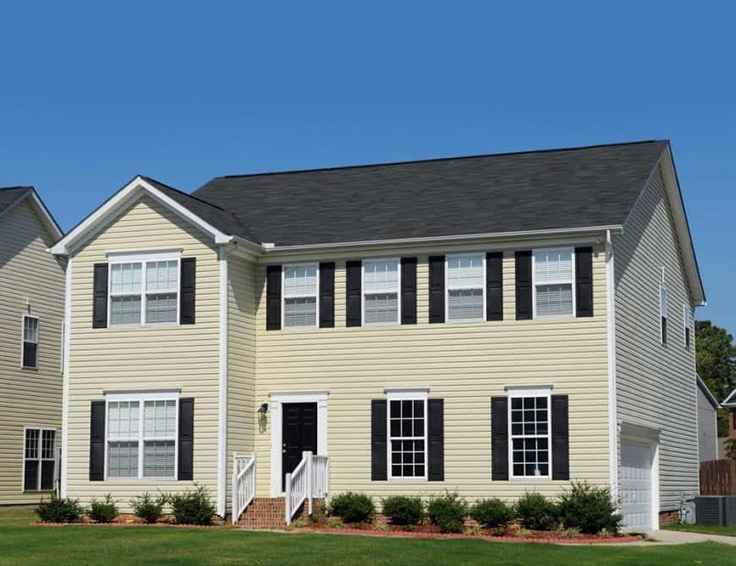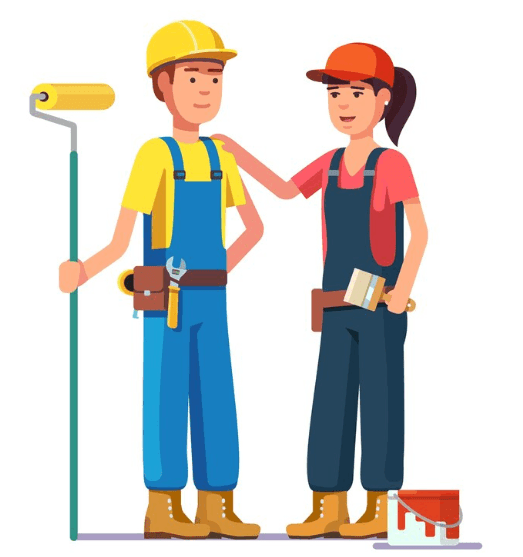 Meet the Artists Behind the Interior House Painting Art
Our interior house painting services are designed to ensure a quick and easy way to complete your painting job. We have managed to simplify the interior painting process with our team handling all of the logistics of your painting project. We ensure consistent results free of drops, seams, and irregularities.
The satisfaction of our clients is our priority, and we use premium products to deliver outstanding results. Our in-depth process ensures that everything goes smoothly from start to finish. The experience and expertise of our team with interior style are sure to amplify the beauty of your home and make it look new again.
Aside from delivering an excellent paint job, we also help our clients with choosing the best colors for their walls. Our seasoned team members walk clients through the basics of house paint color schemes and ideas, helping them find the perfect colors for their space. Whether you want a new coat of paint to hide the wear and tear or you want to explore different paint colors and embrace new design trends, we will discuss your interior home painting needs and get a thorough understanding of what you want before picking up our brushes.
Need a Quote For Your Home's Interior Painting Project?
---
Fish Painting will provide you with a quote based on the measurements and details of your project and help you land at the right choice to make your new space exactly as you imagined. Call us today to find out how much does interior painting cost for your house!
---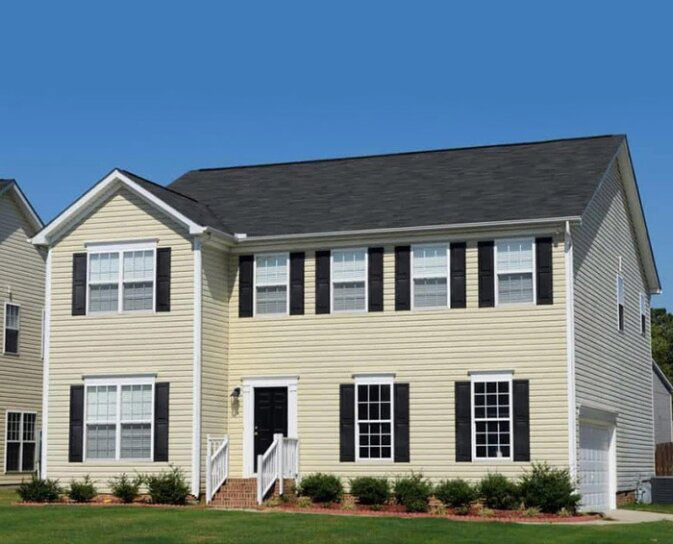 Painting Artfully To Match Your Needs
We provide affordable solutions to transform the worn-out condition of your house into a modern and trendy look. Our team of experts pays meticulous attention to detail and skillfully does their jobs. Rest assured, you will definitely feel proud for choosing us.

Maximum Coverage
During painting, we guarantee to cover every nook and corner. Our team promises that no corner is left untouched, tattered, or shabby.
Job Cleanup
After the job is done, we proceed to clean up equipment, stains, and drips. We ensure that your home appears neat and beautiful.

Final Walkthrough
It's important to conduct one final inspection with you alongside us. It helps us address any concerns or further queries.

Touch-ups
We are always at your service for any touch-ups. We want your house to look new and beautiful.
Let's Add Value to Your Home's Interior Together
We know that your home is your haven, and so we believe it must radiate positive vibes only. Therefore we aim to transform your outdated house into a beautiful space so you can spend your every moment peacefully in it. No more worrying about the chipping paints or the rotten sills. Fish Painting has got you covered!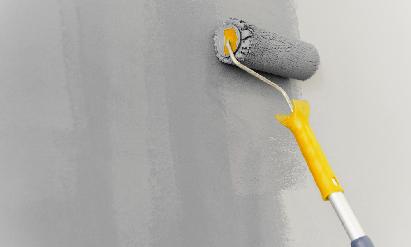 Wall Painting
Are you tired of looking at your old, boring walls? Well, look no further. Our wall painting services will help you upgrade your home.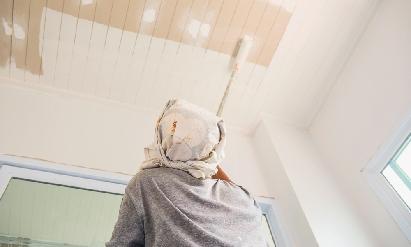 Trim and Ceiling Painting
Apply a fresh coat of paint to your trims and ceilings to create an admirable look for your interiors.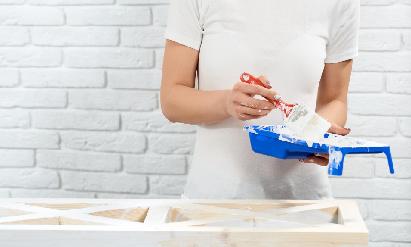 Cabinet Painting
Our team can spruce up your kitchen, bathrooms, and other rooms by refurbishing and repainting your cabinets.
---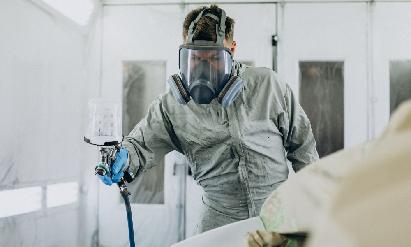 Garage Painting
Transform your tacky and gloomy garage into a fun and pleasant space by choosing our garage painting services.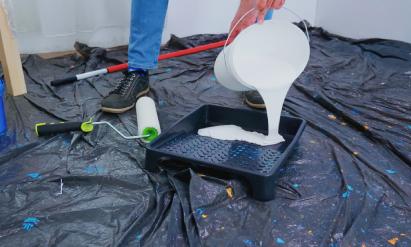 Basement Painting
If you want to upgrade your run-down, shabby basement, you are at the right place. We promise to liven it up with colors!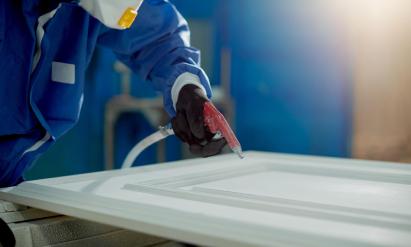 Doors and Windows Painting
Add a pop of color to your rooms by painting window sills and doors a different color. Our experienced team is here to revamp your house.
Why Choose Fish Painting for Your House's Interior Painting Needs?
Our goal is to provide our clients with professional help for their interior painting needs. Our team consists of experienced and talented members who are experts at what they do and ensure a perfectly painted project when they're finished. In addition to their unmatched skills, they also use the best available materials combined with the leading technology in painting. Nothing is more important to us than ensuring that the paint job done is perfectly.
We take pride in being your reliable and trustworthy residential as well as commercial painters who are ready to work around your schedule. For us, there is no task that is too big or too small. So, whether you're looking to paint the walls in your kitchen, bathroom, or living room, or you want to add a renewed feel to your office cubicle, Fish Painting has got you covered. Contact us today to get a quote. Our painters will be more than eager to come to your premises and start the paint job right away.
Add Serenity to Your Place Through Our Professional Interior Painting Services
We are your painting partners who love to work on your schedule. Our process starts with selecting the color of the paint. This part can be more difficult than expected, with seemingly endless options and all the different shades of white making it hard to come up to a decision. Our experts can assist you with this and help you select color palettes that best suit your space.
Once the colors are decided, we ensure to make the necessary preparations so that no damage is done to the place. We use a phase-wise approach to conduct the paint job so that you can carry on with your day-to-day tasks with ease.
When the painting is complete, our crew will clean up any mess to ensure that your site looks like new. To establish that everything is up to the mark, a final walkthrough is performed while the paint is drying to make sure no touch-ups are needed.
After everything is finalized, you will surely enjoy the peace your place offers. So let's join hands together and add a heavenly feel to your precious asset. From now on, you will definitely want to spend all your hours in this newly painted space of yours.
---
CONTACT US
What Our Customers are Saying About Our Professional Interior Painting Services
Find out what our clients have to say regarding our services. Customer satisfaction is our priority, and we are always happy to hear the words of praise from our clients.
---
Nellyann Vasquez
2022-12-21
He was very knowledgeable of paint quality and color, and worked with grace in a timely manner. I highly recommend him for painting and will be using his services again in the future.
Denise O'Neill
2022-12-16
When they call Christian a painter, it does not do him justice. The man is more of a magician! He took a previous DIY project from years ago, and created a brand new space! I could not have been happier with the way he communicates and his skills. I would highly recommend this man to anyone who is looking to have quality work done either inside or outside their house!
Christian was very courteous. He did a great job painting our room. I would definitely use Fish painting again and would also recommend to anyone I know.
Bobbie Gaudette
2022-09-20
I am thrilled with the quality of the work Christian and his team completed on the interior of our home. The work was completed on time and Christian worked long hours to get the project done. I'm a Realtor and am always looking for quality professionals and I am excited to have an excellent referral partner for painting! Thank you, Fish Painting!
Samuel Burgess
2022-09-12
Christian did a fantastic job on our house!
John Sango Senior
2022-09-11
Christian finished the job in 3 days, instead of the 4 he'd predicted. He stayed late and was receptive to suggestions. The paint job looks amazing, I would recommend him strongly if you want a job done right.
Sarah Traphagen
2022-07-02
Christian is the BEST! He made time to come do painting at my house on the weekend very soon after I requested his services. He responds quickly, is professional (he sent a thorough quote, arrived on time, and listened to all of my needs), and talented when it comes to painting. I had him do touch-up work, exterior door painting, baseboard painting, and the stairway spindles and risers. Everything looks IMMACULATE! I'm so happy with his work - he is now the person I will contact for all of my painting needs. :) Christian is also very kind and friendly. I enjoyed having him in my home.
Thomas McCabe Jr
2022-06-18
Absolutely wonderful! Christian is a perfectionist who prides himself in pleasing his customers I would strongly recommend him. His work ethic is incredible!
Christian came highly recommended by 3 of my friends and family. We had a huge barn exterior that needed to be cleaned and oil stained. We planned to get a few prices from two or three different painters but after speaking to Christian we felt very comfortable going with him as he was so knowledgeable, professional and friendly. "Fish Painting" was a great experience and value and we highly recommend Christian.
Philip de Rham
2022-06-06
Frequently Asked Questions
1
How can I choose the best color for my home's interior?
Choosing a color for your home isn't too difficult. The advice that works for most is to take inspiration from the surroundings and your own personality. You can also choose our color consultation services.
2
Why should I choose Fish painting's interior painting services?
We have an experienced team who provides excellent consultation and skillful services. We use the best paints and exceptional techniques to renovate your home with just colors. And our goal is to achieve 100% customer satisfaction.
3
How much does home interior wall painting cost?
It depends on the condition of the wall to be repainted, its height and length, and the color you want to choose. Many other factors also come into play. You can call us today to get a proper quote.
4
Do I have to move out while you paint?
Oftentimes, our customers prefer living someplace else during interior house painting. However, it's not necessary. As long as your entire house isn't getting painted and you have rooms intact, you can live there.