Does your colonial house look just that – centuries old? Well, then, it's time to spruce things up and breathe new life into your home with a fresh coat of paint.
If you're planning to repaint it but have no clue what shade to pick, hop on board. The blog covers all the trendy colonial paint colors you can use for your exterior and interior.
I know you're excited to get started, so let's not waste any more time on the intro.
Colonial Paint Colors – Exterior
Colonial homes have a simple, minimalist rectangular shape with a strong sense of symmetry. What's more, their majestic appearance makes choosing the right color a daunting affair.
To help you embark on your home renovation journey, we've prepared a list of trending paint colors that can help modernize your colonial home. 
You can use these hues on their own, or in combination with others to adorn the simple accents of your colonial home, such as the door, shutters, siding, and trim. Using paint in these strategic structural areas of the exterior adds personality to your home, enhances its aesthetics, and makes it stand out from others in the neighborhood.
Let's get your inspiration flowing with the following colonial house colors that you can use on the exterior and accents.
1. White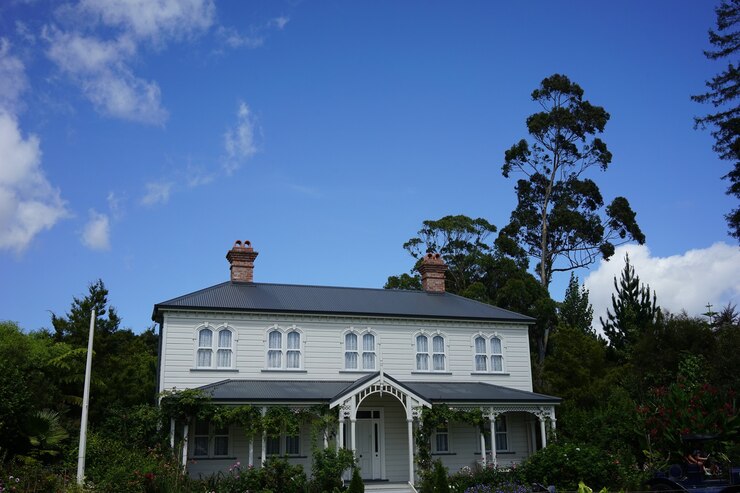 Source: Freepik
Nothing beats a classic white exterior. It's timeless and original, helping to tie in the simplicity of the Colonial era to the home. A semi-gloss or high-gloss paint can help maintain the crisp whiteness of your white exterior and keep your home looking fresh for longer.
However, this can get challenging at times. Dirt, stains, and scratches are more visible over time. So while a white facade with white trim may be the choice for many people, some homeowners utilize this traditional neutral color as a canvas to add discreet color accents to the exterior.  
What colors can you use to paint the accents of your Colonial home?
With an all-white home, you have the flexibility to experiment with a lot of colors. For instance, black shutters and trim can add an elegant finish to your home. But it's a common style used in the late 19th and early 20th centuries. 
If you want to add a more modern appeal to your home, try combinations such as red and navy blue. Or for a fresh twist, consider green, yellow, or turquoise.
2. Blue 
Source: Freepik
Blue has a strong historical link to the colonial era. Not surprisingly, this hue still remains dear to many colonial homeowners. Blue coincides with the stateliness of the house, so it's one of the popular colonial home exterior colors, especially if your home is nestled in the center of a wooded lot. But besides these reasons, blue can add beauty and depth to your historic home. 
The key is to choose a shade of blue that aligns with the architectural style – nothing too bright or light. Blue-gray and soft-blue are two popular options that can elevate the look of your home. 
What's more, you can take your blue exterior to the next level. Simply pair it off with white, black, classic gray, or cream to highlight the accents.
3. Green
If you want to add curb appeal to your traditional home, opt for something unique, like a gorgeous green exterior. Make a style statement with some of the latest shades, such as muted green, deep forest green, and rich bluish-green. 
However, make sure to complement the dark green color with light color accents. For instance, a trim painted in a warm beige and the porch steps in natural stone go well with the dark, earthy exterior of your colonial house.
Remember that darker hues can offer a weightier look. So they're a good choice for small or medium-sized homes. On the other hand, the same color can become too overpowering for larger homes.
Colonial Paint Colors – Interior
In general, home interiors should focus on creating a calming atmosphere. And this couldn't be more important when choosing your colonial interior paint colors.
When selecting a color palette for the interior, you have to think of the house as a whole. Remember, the colors must flow naturally from one area of the home to the other. So for best results, opt for neutral shades. 
While white is usually the most common option, here are some popular shades you may want to consider.
1. Creamy Off-White
Source: Freepik
Creamy off-white is one of the best shades for your colonial home. Since it's slightly softer than stark white, it helps offer a more sophisticated vibe that complements the classical elegance akin to colonial home interiors.
What's more, off-white offers the neutral base you need to showcase some of the beautiful architectural features in your home and the elements of your decor. 
Off-white is a timeless option when choosing paint for interiors. And it's one of the traditional colonial house colors that won't be going out of style any time soon. 
2. Dusty Rose
Source: Freepik
This pale creamy hue has a slight hint of pink. But it's just enough to portray your sophistication and class. The right shade can add a stylish, more refined air to your home.
But for me, this shade has romantic connotations that can change the atmosphere in any room.
3. Neutral Beige
Source: Freepik
Soft beige that hints at cream is a shade that can complement the finishing of your colonial home. Not only does this color add warm cozy tones, but it also holds true in sunlight and is adaptable to different interior decor styles.
Spruce Up Your Colonial Home 
When you paint your colonial home, pick a color palette that enhances its architectural style. So while this may seem like an opportunity to experiment with unique color combinations, you don't want to pick a shade that offsets its original style.
This is where we come in. At Fish Painting LLC, we have experts that can help you choose the best Colonial paint colors depending on the style and architecture of your home. Feel free to contact one of our paint consultants for more ideas on modernizing your Colonial homes. Let's partner together to give your Colonial home a fresh new look- inside and out.