Are you looking for fence painting ideas to add some life to the dull exterior of your house? Well, allow us to help you out.
Have you ever stood outside wondering why your house looks so dull? Even though you just left a massive dent in your bank account with all the repairs, why does it still lack personality or charm? If so, then it may be time to enhance your curb appeal, and one of the most effective ways to do that is through fence painting.
A well-painted fence can significantly improve the overall appeal of your home's exterior. Whether you have classic picket fences or edgy vinyl fences, a new coat of paint will change their appearance and improve your home's curb appeal.
A bright fence not only offers privacy and protection but also acts as a gorgeous attraction that breathes new life into the exterior of your home. So, if you want to spruce up your outdoor environment, grab a paintbrush and check out these five creative fence painting ideas.
5 Creative Fence Painting Ideas to One-up Your Curb Appeal
1. Monochrome elegance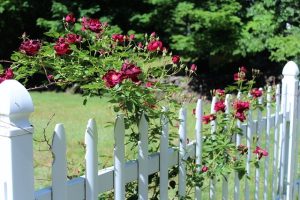 Some of the most popular paint colors for fences include neutral and sophisticated shades like whites, greys, and blacks. You can't go wrong with a classic monochromatic fence. Opting for a shade like white or off-white for your fence adds elegance and sophistication to the aesthetic of your home. They blend well with all sorts of architectural styles bringing a sense of calmness and giving your home a charming and inviting appearance.
On the other hand, colors like black or deep grey offer a touch of drama to your exterior. Opt for such shades if you're looking for a more dramatic and contemporary look for your exterior. Dark monotones add sophistication to the place and allow the other elements of your outdoor space, like colorful flowers and outdoor furniture, to stand out. You can combine these colors with climbing vines or floral arrangements to improve your curb appeal and create a scenic environment.
2. Wooden Finish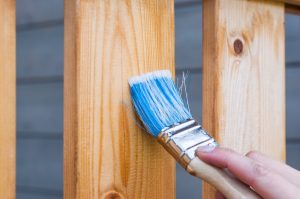 When you're exploring fence painting ideas, a trendy and safe choice you may come across would be to showcase the natural beauty of your wooden fence. Wooden finishes give your exterior a warm and rustic look, so instead of painting over them, you could use a sealant or protective stain that allows the natural texture, grain, and color of your wood to shine through.
You could go for clear or transparent stains for warm rustic exteriors, or you could opt for weathered and distressed finishes for a more vintage and coastal feel. Select a color that complements the structure and location of your home. Wooden fences are timeless and blend in well with the surroundings while preserving the wood's beauty.
3. Dual Tone Effect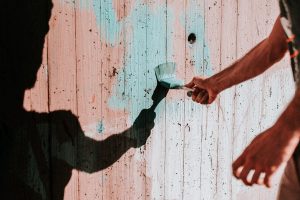 Another artistic approach to enhance your fences' charm is using a two-tone color scheme. It gives your fence depth and is visually pleasing. When selecting fence paint colors, choose shades that work well together, like grey and beige, navy blue and white, or shades that can easily transition from light to dark to achieve that Ombre effect. There are multiple ways to work with this technique to paint your fence.
You could use one color for the fence's main body and a different color for highlights and decorative patterns. This way, you can add a little elegance to your fence while keeping the overall design consistent. Additionally, you can also create an ombre effect by blending two or more colors from light to dark or vice versa. Ombre fences pair well with beach houses. You could start with a deep shade of blue at the bottom and transition to a lighter tint at the top.
4. Vibrant Colors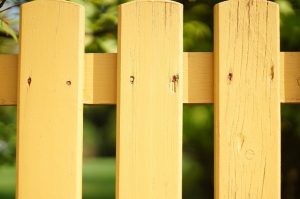 If you're more of a creative and artistic person, then sleek and sophisticated fences may not give the desired touch to your home. Instead, try opting for bold and vibrant colors. Some of the best fence paint colors to add a playful touch to your fences would be bright red, electric blue, or a very sunny yellow. These bright colors radiate positive energy and give your fences a playful personality.
Gardens benefit significantly from the use of bright colors because they create a lovely backdrop for vibrant blooms and luxuriant greenery. Choose a prominent color to paint the entire fence in to avoid overwhelming the eye, or alternate panels in various hues for a fun and diverse aesthetic. Make sure the colors you select harmonize well with both the beauty of your home as a whole and the surroundings.
5. Artsy Murals And Patterns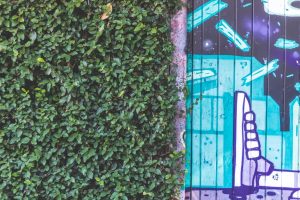 A unique way to add character to your fence is by treating it as a blank canvas and unleashing your inner artist. You could paint murals and patterns on your fence. If you are a family with kids, painting a mural could be a fun activity to try, or you could hire professional painters for a cleaner finish. Murals and patterns can turn your fence into a captivating focal point.
When choosing an idea, opt for nature-inspired designs or cultural or historical elements for that artsy vibe. However, if you prefer edgy modern-style fences, go for geometric patterns or mosaic art. Remember that creating murals and patterns with art allows you to express your personality and creativity. Create a fence that genuinely reflects your style and aesthetic sensibility by letting your imagination go wild. Ensure that you use good quality outdoor paint and sealant to avoid your art getting weathered.
Final Thoughts
Painting your fence is an excellent method to revitalize the outside of your house and improve curb appeal. There are various fence painting ideas to select from, whether you choose traditional elegance, bright colors, natural wood finishes, two-tone sophistication, or artistic murals. When selecting a color and design, keep in mind the architectural style of your home, the surrounding landscape, and your personal preferences.
To achieve a durable and expert finish, carefully prepare your fence before beginning your painting project by washing, sanding, and priming it. And if you're looking for a reliable company to enhance the exterior of your house and bring your vision to life, consider opting for Fish Painting llc. We will help personalize your fences and provide an excellent paint job from start to finish. Call us today and get a free estimate of the costs to give your fence a modern and artistic finish.